The Chicken
Blake is a student at The School for Young Writers
Fiction, Young Writer, Poetry, Suitable for Young Readers
When I pick her up she feels warm and frail.
She's like a giraffe sticking her neck high above the canopy
searching for a decent snack.
When she flies you can see ginger with hints of white
and red around the wings.
She's skittish when I walk up to her
but brave when she sees our dog.
She's so beautiful but ugly all together
Blake is a student at The School for Young Writers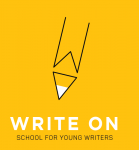 Are you a professional or budding writer and want to contribute with a story? We would love to have you on board!