Six Ways to Look at Time
Paint n' Pen submission
Inspiration: Artwork by Tepid and Wisk
Artwork location, details and photo credit https://watchthisspace.org.nz/artwork/533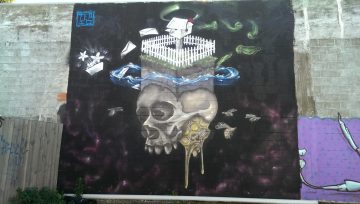 A continuous loop repeating itself.
A couple seconds closer to your birthday.
A few seconds closer to death.
A common thing just like the world, or this poem.
A thing that keeps track of when you eat, sleep, drink, eat again, sleep some more, keep
sleeping and not waking up.
Or, a thing older than the word 'time' itself.
Some comments from the selection panel:
"An interesting interpretation of 'Tepid and Wisk'. I liked that each line was one way of thinking about time."
"Very interesting interpretation of the piece – I love that!"
The Commuting Book Paint n' Pen Creative Writing Programme is a collaboration between Christchurch City Libraries, The School For Young Writers, Watch This Space, Evans Taylor Digital and supported by Christchurch City Council's Enliven Places Projects Fund and Publica
Are you a professional or budding writer and want to contribute with a story? We would love to have you on board!