Rising Tide (Chapter Five)
Illustrations By Jenny Cooper
Fiction, Book Chapter, Suitable for Young Readers
To read previous chapters go to Stories
Chapter Five
Back at home, Ari's dad came thumping up the steps and burst through their front door.
Woohoo! It's raining cats and dogs and cows and sheep out there!" he called, stopping to take off his boots and sopping-wet jacket and pants. "Ari! Ari, mate! Bring me a couple of towels will ya?"
He's not here, love," she said. She looked worried.
Where is he? Are the girls here?" asked Riki.
Yes, they're here, up in their rooms … Riki, something's happened with Ari. It has something to do with Ted's fall, but no one's talking and Kiri is furious with us all – you and me especially, I think." Ari's mum's voice was heavy. "We need to talk to him. You need to talk to him, Riki. You really have to tell him now. Whatever it is that's upset him, Kiri seems to think that Ari knowing about your problems with reading will help things."
"I've told you before, he's not to be burdened with it. He'll come right on his own." Ari's dad took the towels from his wife. "I need a shower, and I want to talk to Dad," he said, walking away.
Ari's mum sat down at the kitchen table, thinking about shame and wondering how she could help the people she loved the most in the world. She thought about secrets, and how lonely they could make people feel. She was sure that if they all put their secrets out in the open, everyone would feel better. She also knew that, as a family, they could find a solution to whatever was upsetting Ari.
But first she needed Ari safely home, and she also needed to convince Riki to speak to him.
She sat and waited for Ted to wake up.
He'd know what to do. He always did.
Book cover: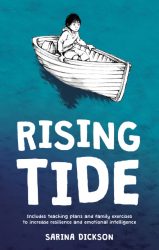 Are you a professional or budding writer and want to contribute with a story? We would love to have you on board!