Murky Storm
Paint n' Pen submission
Poetry, Quick Read
Inspiration: Artwork by Cracked Ink
Artwork location, details and photo credit https://watchthisspace.org.nz/artwork/625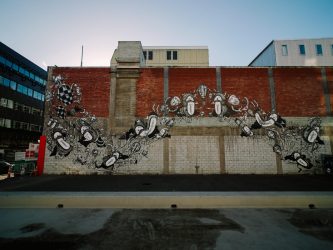 Cluttered clouds brimmed the bleak sky. Rain
Rapidly drenched the buildings. The gusty wind
Accelerated furiously, blowing inky figures across the brick walls. Others
Collided brutally at each other. Lightning struck aggressively,
Killing a couple of the inky figures. Winds started to form a current,
Eating the figures as they float in between.
Darkened fog started to strike. The ground starts to vanish.
Illogical hot air balloons drifted against the storm.
Nightmares painted. The
King of ink.
Some comments from the selection panel:
"This is my favourite from Amor"
" 'Murky Storm' is an amazing take on the usually basic acrostic poem format"
"Love this!
The Commuting Book Paint n' Pen Creative Writing Programme is a collaboration between Christchurch City Libraries, The School For Young Writers, Watch This Space, Evans Taylor Digital and supported by Christchurch City Council's Enliven Places Projects Fund and Publica
Are you a professional or budding writer and want to contribute with a story? We would love to have you on board!